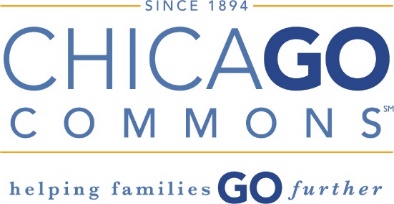 Chicago, IL (June 15, 2021): On Tuesday, June 15, 2021, more than 100 leaders from the business and civic community gathered for Chicago Commons' Annual Meeting & Celebration to reflect upon the challenges and successes of the previous fiscal year as well as celebrate the departure of Chairman Emeritus, Willard S. Evans, Jr., introduce the Board Chair Elect, Steven Sparks, and provide a glimpse of what is to come.
Chicago Commons is a 501(c)3 nonprofit established in 1894 that currently serves more than 3,000 families annually in some of the city's most under-resourced communities through high-quality early childhood education, family support, and senior services.
Evans' retirement from the Board of Directors marks a transition in leadership for Chicago Commons' storied history. To celebrate this momentous occasion, several guest speakers gave remarks, including Illinois Governor J.B. Pritzker (via video), Mary Timmons, Senior Vice President for Northern Trust Corporation, and Michael Reeves, Former Chicago Commons Board Chair and Former Executive Vice President, Peoples Gas. Illinois State Senator Mattie Hunter was also in attendance.
Upon reflecting on Evans' legacy, Governor Pritzker noted, "Will is the embodiment of what it means to be a civic leader in our state. This is one of the main reasons I recruited him out of retirement from his role as President of Peoples Gas and Northshore Gas to serve as chairman of the Illinois Tollway Board." As a token of appreciation for his dedication to the state and to Chicago Commons, Governor Pritzker issued a proclamation in Will Evans' honor during the Annual Meeting.
Will Evans joined Chicago Commons in 1992 and has served on the Board of Directors for 29 years, advancing to Chairman of the Board in 2015. He is the former President of Peoples Gas and North Shore Gas, regulated natural gas utilities now owned by WEC Energy Group. He currently serves as Chairman of the Board of Directors for the Illinois Toll Highway Authority. His retirement from the Chicago Commons' Board closes out one of the longest tenures in organizational history.
"When I joined Chicago Commons, we were a much smaller organization with aspirations to grow. We had an annual budget of about $17 million. Today, we are one of the leading social service agencies in the state with an annual budget of more than $32 million," stated Chairman Emeritus Evans. "Since the 1990's, we have opened three new early learning centers, launched a senior services center in Bronzeville to house one of the largest homecare programs in the state, and built an innovative Family Hub to provide multi-generational support to families. As I retire from the board and turn the reins over to Steven Sparks, I know we are in good hands."
Board Chair Elect Steven Sparks will ascend to Evans' Chairman role, effective June 16. Sparks has been involved with Chicago Commons since 2011, serving several years as Vice Chair. He currently serves as a Transformation Advisory Services partner at Grant Thornton LLP, a leading U.S. professional-services firm. In this role, he advises boards on digital strategy, growth opportunities and mergers and acquisitions. Sparks also assists high-growth organizations and their c-suite leaders on strategy, operations and risk management. His more than 25 years of experience cuts across a wide array of industries, including life sciences, healthcare, consumer and industrial products, financial services and enterprise software.
"As our incoming chairman, I look forward to teaming with Edgar and the board to guide our mission with compassion, while advancing the quality and reach of our programs, investing in our amazing and dedicated staff, and increasing the ways in which we raise and earn funds for our organization," remarked Sparks.
"Leadership is critical, especially in these times," said Edgar Ramirez, President & CEO of Chicago Commons. "We have been exceptionally fortunate to have such dedicated and talented minds at the helm of our Board and I am excited to work with our new leadership to tackle the challenges of tomorrow and continue on this path of organizational growth."
Chicago Commons also acknowledged the addition of Kimberly Ross, Chief Administrative Officer for the Illinois Tollway, to the Board of Directors, as well as the departure of Alfy D'Ancona. After the virtual meeting, guests participated in a Chicago-themed trivia game.