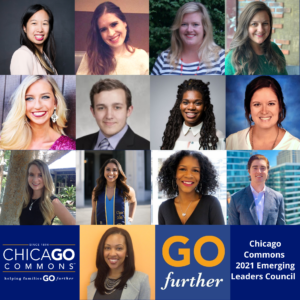 Sharon Moy- Co-Chair
Sharon Moy is an asset to have to work with creative minds and detail-savvy business management. She currently is an experienced project specialist at Peoples Gas located in Chicago, Illinois. She earned a Bachelor Science degree in Accountancy at the University of Illinois at Urbana-Champaign and a Master's in Business Administration from Keller Graduate School of Management. Sharon is actively involved in nonprofit work within Chicago community. She is a current member of the Chicago Commons' Emerging Leaders Council and is on-site coordinator for Chicago Youth Programs' tutoring program at Peoples Gas. Outside work, Sharon enjoys listening music and learning to make random things. In past, she has worked with local Chicago artists and organizations such as The Chicago International Movies and Music Festival (CIMMFest) on marketing/promotions, budgeting and show bookings.
Ashlyne Wilson- Co-Chair
Ashlyne Wilson is a communications professional with a passion for strategic storytelling that uplifts, educates and inspires her audience. Born and raised in Akron, Ohio, Ashlyne obtained her bachelor's degree in Journalism from Kent State University, before moving to Chicago to earn her master's degree in Public Relations and Advertising with distinction from DePaul University. Throughout her career, she has acquired experience in brand and social media marketing, public relations, advertising and internal communications. While Ashlyne works hard, she likes to play hard exploring the city she's grown to love. In her spare time, Ashlyne enjoys brunching on Sundays and is obsessed with House Hunters, crime documentaries on Netflix and Häagen-Dazs coffee ice cream.
Briana Advani
Briana Advani works at McMaster Carr, where she is a part of the management rotational program. She is an operations supervisor focused on supply chain management in the company's warehouse. Briana graduated from UC Berkeley in 2018 with a degree in Business Administration. Briana moved here after graduating and has explored her way through the many amazing neighborhoods Chicago has to offer, one restaurant at a time.
Jessica Bozek
Jessica (Jessi) Bozek is a middle school reading/writing teacher in the Chicago suburbs. In addition to her teacher position, she coaches and runs after school activities in the community. She is very passionate about children of all ages. She has been involved with volunteering at her church, tutoring, and presenting at secondary-education conferences. Jessi enjoys exploring different restaurants and neighborhoods in Chicago, attending country music concerts, and doing art projects.
Megan Cage
A natural leader and master "includer," Megan Cage discovered her magic through involvement. During the day, she ensures her operations team is consistently meeting deadlines, communicating expectations, and delivering the high-quality work IRI clients have come to expect. During her personal time, she enjoys using her skills for good by consulting with non-profits, attending fashion events in Chicago (gotta love style, right?) and enjoying live music.
Anna Diekemper
Anna Diekemper is a little taste of everything. She has danced her whole life, in fact, attended her undergraduate at WIU as a D1 dancer. Anna minored in dance and is trained to teach and perform a variety of genres, but her favorite of all, is tap. Anna started competing in pageants back in 2011 and has competed in different systems, including National American Miss Program and the Miss America Organization. Pageants showcase her passion for performing and giving back to her local community, no matter where she lives. Her personal platform is titled "Healthy Living, Easy Breathing" – a platform that specializes on raising and spreading awareness for those who suffer with asthma, like herself. Tied in with pageants, Anna is a strong advocate for Children's Miracle Network Hospitals. She has been involved with fundraising not only through the MAO Organization, but with Dance Marathon. Anna works for a 5-billion-dollar corporate giant in the logistics industry, Schneider. Anna has worked in the sales division, aids in new hire mentorship, career fair recruiting, creation and collaboration of customer market material, and philanthropic community involvement. What Anna honors most are the 3 F's: faith, family, and friends.
Alex Kapustka
Alex Kapustka is a Senior Associate in PwC's Cybersecurity and Privacy practice, helping organizations implement strong security & governance. Alex is originally from St Charles (IL) and has lived in Chicago for the past five years. Alex ran as part of "Team Commons" in the Bank of America Chicago Marathon in 2019 and 2020.
Jacob Lewis
Jacob Lewis works at LGIMA as a Strategy Associate for institutional prospects, focusing on ESG, Fixed Income and Multi Asset investment solutions. Jacob is also actively involved in nonprofit work in Chicago, where he is a mentor coach and a junior board member of America Needs You, along with being a member of CELC. Jacob graduated from Princeton University in 2018, where he studied International Affairs and was a member of the varsity football team. He enjoys exploring Chicago, watching all types of sports, attempting to paint, and listening to live music.
Katheryn Meagher
Bio coming soon.
Jessica Newman
Jessica has over 10 years of marketing experience and currently serves as a Head of Marketing at a Chicago-based Enova International. Prior to Enova, Jessica worked in marketing for a few companies including Capital One and Target Corporation. She has a bachelors from the University of Michigan and an MBA from Northwestern University, Kellogg School of Management. Although she's lived in Chicago for 10 years, she's originally from Michigan and still roots for the Wolverines (Go Blue!). In her free time, she enjoys traveling, trying out new restaurants and spending time with friends and family.
Allison Reisch
Allison Reisch started her career as a junior high math teacher. Her love for math found her a role as an analyst at an advertising agency. After six years working at an agency, she decided she was ready to be the client. Allison is now a CRM and database marketing manager at a senior living company working to improve their one-to-one communication and using data to uncover insights. When she's not at work, Allison enjoys shopping for antique furniture and home décor.
Sarah Rice
Sarah is a transportation expert at Schneider National. Sarah assists customers in finding unique solutions to manage their logistics operations. When Sarah is not servicing customers she leads her office in volunteer opportunities across the city! Sarah has initiated involvement with over 15 organizations since 2018 in the Chicagoland area and is always looking for new ways to get involved. Outside of the professional setting, Sarah enjoys staying active by attending her local Pure Barre studio 4-5 days a week and never misses an opportunity to pet a golden retriever. Sarah is the planner amongst family and friends and is always eager to set up the next get-together! Sarah is very excited about joining CELC and eager to get involved in a number of ways in 2020!
BreAnne Richter
Bio coming soon.