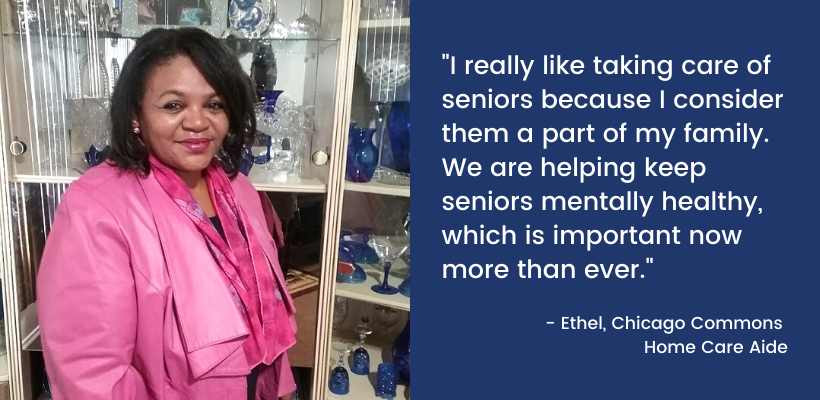 Donate to Chicago Commons COVID-19 Relief Fund
As the COVID-19 pandemic continues, we want to share the inspiring work of Chicago Commons' mission-driven "heroes" who are committed to meeting the needs of our children, families, and seniors. This week, we highlight the story of our very own Ethel Watts – a dedicated Home Care Aide from our Senior Care team who has been with us for over 16 years.
Even prior to the pandemic, she has exuded passion for her work supporting seniors in their home, meeting a great need for senior care in our community. Ethel, like many of our Home Care Aides is driven by our mission.
She says, "I really like taking care of seniors because I consider them a part of my family. If I live to be my client's age, I will want someone to provide that care for me too."
During this trying time, Ethel continues to support her client, a visually impaired senior over the age of 80. She is still visiting with her client five days a week for six hours to assist with cleaning, personal care, preparing meals and checking in to make sure her client is well. When asked why she believes her client has chosen to continue service with Chicago Commons during this time, Ethel explains that she has worked with her client for 8 years, and has built a close relationship with her client and client's family as well, they trust her and depend on her. I commend Ethel and our other Home Care Aides for their passion and dedication. She understands that her client needs her now more than ever.
Ethel does not do this work alone and it takes a team to keep our Home Care Aides and seniors safe during these times.
She added, "One thing I love about Chicago Commons is how well they have responded to the coronavirus and changed how they are doing things to make sure we are all okay. We are now getting alerts on our phones, they are supporting us, calling to check-in, doing PPE distributions, and making sure nobody is sick or around people who are sick. They have been wonderful, and have really improved during this time of coronavirus, and it has really brought us together."
Our heroes on the front line can tell countless other stories like this one. I am grateful for all the heroes at Chicago Commons.
Generous donations to our Chicago Commons COVID-19 Relief Fund have enabled us to provide personal protective equipment to our essential home care aides to keep them and our seniors safe during visits. Funds from the Chicago Commons COVID-19 Relief Fund have also allowed us to provide economic support directly to families for rental assistance, groceries, utilities, and other needs such as diapers, wipes, and formula.
Please consider donating today.