At each of our four early childhood education centers, we serve the whole family. To promote child well-being and prepare our children for kindergarten success, Chicago Commons' Family Hub provides parents/primary caregivers with a broad range of supportive services and educational opportunities. Our Family Hub staff make it convenient for our parents to attend free workshops at each center. Family Hub programs empower families to overcome poverty, systemic barriers, and embrace opportunities.
Family Hub helps parents:
Manage their finances
Improve their physical and mental health
Gain employment and job-readiness skills
Increase digital literacy
Advocate for themselves, their children, and their communities
Pathways for Parents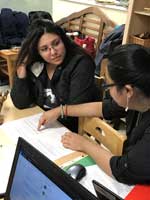 Family Hub's Pathways for Parents program provides the stepping stones for a career in early childhood education. This cohort-based program offers fully subsidized college courses conveniently located at one of our early education centers, guidance to become qualified as a teacher's assistant, and help with transportation, meals, and childcare. After earning just six college credits, participants are qualified to be hired as a Teacher's Aide in early education.
Interested in applying to be a part of the next Pathways for Parents cohort? Email Family Hub Staff at pathways@chicagocommons.org for more information.