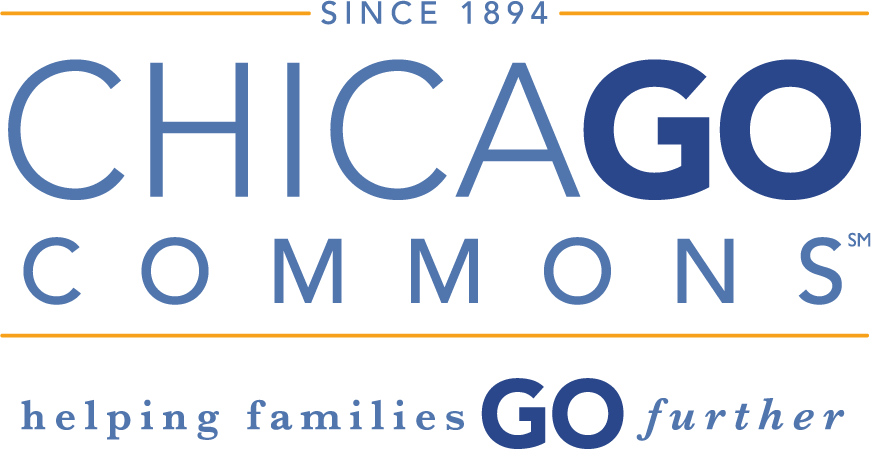 Chicago Commons & Partners Awarded $23 Million Per Year, 5-Year Head Start Grant
Chicago Commons & Partners to Provide 1,270 Children High Quality Early Education Annually—second highest allotment of slots in the Chicagoland grant.
Chicago, IL (July 14, 2021): Chicago Commons and its delegate partners are pleased to share the Administration for Children & Families, a division of the U.S. Department of Health & Human Services, awarded the collaboration a 5-year $23 million per year Head Start Program Grant. This grant is part of the Office of Head Start's $145 million commitment to Head Start and Early Head Start in the City of Chicago.
Through this grant, Chicago Commons and its delegate partners—Eyes on the Future, Gads Hill Center, Learn Together Grow Together, and Onward Neighborhood House—will do more than continue existing early childhood education programming. The commitment will fund the collaborative to deliver innovative practices in the field by focusing on core principles of social justice, parent-teacher driven quality improvement strategies, and workforce investments to support the field's most valuable asset—its educators.
Through the scale and sustainability of this award, Chicago Commons and its delegate partners will support learning and development for more than 1,270 children in 14 primarily African American and Latino neighborhoods across Chicago that have tremendous need for high quality early learning programs. This is the second highest allotment of slots in the Chicagoland grant.
The COVID-19 pandemic has devastated the early learning community and revealed the vast inequities that exist in communities. This grant to Chicago Commons and its partners is a step in helping to address these challenges by ensuring that high quality early childhood education programming for children from low-income households from birth to age five is available to help children reach their full potential. As a result, Chicago Commons and its partners' proposal received broad public and private support.
"Chicago Commons is uniquely qualified based on quality ratings, commitment to serving high need communities, and their reputation as an early childhood education innovation leader," said U.S. Senator Dick Durbin (D-IL). "Chicago Commons has more than a century of service to families and this critical Head Start funding will help build the foundation for lifelong success by supporting early education and family well-being."
"During my time as a U.S. Senator, I have made it a priority to ensure Illinois families have access to high quality early education resources and the critical federal investments that make them possible," said U.S. Senator Tammy Duckworth (D-IL). "Chicago Commons' application aligns with the core goals and objectives of Head Start."
Having been one of the earliest organizations to develop kindergarten programs, Chicago Commons has been a pioneer in early learning since 1897.  In recent years, Chicago Commons and its partners have developed a track a record of success, quality, and innovation. Chicago Commons is proud to report that many of the centers in the collaboration meet or exceed widely held expectations across several early learning domains. For Chicago Commons, this grant allows the organization to advance goals established within its 2019 Strategic Plan—A Bold New Future.
"At Chicago Commons, our vision is to create a future where all children and their families have access to equitable opportunities for success, generation after generation," said Chicago Commons Board Chair and Grant Thornton LLP Partner, Steven Sparks. "This grant will enable us and our partners to make the necessary investments to remain leaders in high-quality early childhood education and realize measurable results."
"On behalf of Chicago Commons and our delegate partners, we thank the Administration for Children and Families for their investment in our approach and congratulate the other award recipients," said Chicago Commons President and CEO Edgar Ramirez. "We are also grateful to federal, state, and municipal leaders that have stood by our work. Our collaborative hopes to deliver complimentary and innovative programming in the early learning landscape and foster a community that advances the field."
The grant award begins August 1, 2021. Individuals interested in learning more about how to enroll their children in early childhood education centers or career opportunities, are encouraged to visit www.chicagocommons.org for information about opportunities available through our collaborative.
MEDIA CONTACT:
Brittney Mmutle, Marketing & Communications Manager, Chicago Commons
e: mmutleb@chicagocommons.org | c: 773-885-1554
###
ABOUT CHICAGO COMMONS
For 127 years, Chicago Commons' programs have empowered children, families, and seniors to live richer, more fulfilling lives. Since its first settlement house in 1894, Chicago Commons has been anchored in underserved communities, giving neighbors the tools and skills needed to reach their potential and thrive across generations. To fulfill that mission, the organization provides high-quality early childhood education, family-centered adult education, and senior services to more than 3,000 children, adults, and seniors annually. Chicago Commons serves four core neighborhoods: Humboldt Park, Pilsen, Back of the Yards, and Bronzeville, with the Home Care program serving seniors throughout Chicago and its collar counties. Individuals interested in supporting the organization, volunteering, or learning more about programs can do so by visiting www.chicagocommons.org.