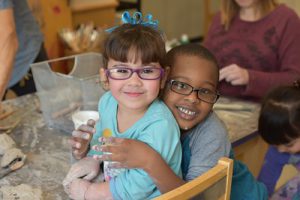 Within recent years, Chicago Commons has made several investments to ensure that we are providing the best opportunities for our children, families and seniors. We are happy to report that as a result of one of our investments, our 2018 CLASS scores indicate that we are one of the best early education providers in the region.
The CLASS (Classroom Assessment Scoring System) is an observation instrument used by all Head Start Programs. It measures the quality of teaching interactions verses the quantity and variety of materials in a classroom. CLASS measures three domain areas: Emotional Support, Classroom Organization, and Instructional Supports on a 7-point scale.
In the domain of instructional supports, a score of 3.25 is the threshold at which we see a rise in student outcomes that can last through third grade. Thanks to our early education staff, we were able to raise our score significantly over three years. In 2016 our Instructional Support score was a 2.65. In 2017, our score rose to a 3.74. This year our score is a 4.17! This is a huge accomplishment, as it positions our students for even higher levels of achievement. Although the CLASS scores are not the only way we measure outcomes or quality of education, these scores are one indication of our success in the classrooms.
Chicago Commons early education schools strive to meet and exceed Head Start standards and other notable measurements in early education. Here are some of our outcomes for 2018!
Kids at ChicaGO Commons are clearly GOing Further!
CLASS (based on a 7-point scale):
Emotional Support

Classroom Organization           

Instructional Support
Chicago Commons also uses an assessment called Teaching Strategies GOLD, which measures students against "widely held expectations" in various domain areas. The scores are calculated based on the percentage of children "meeting or exceeding widely held expectations".
2018 GOLD SCORES:
Percent of children meeting/exceeding widely held expectations:
Chicago Commons

Students 0-3

Chicago Commons Students 3-5
Math

Cognitive Abilities

Literacy

Social-emotional learning